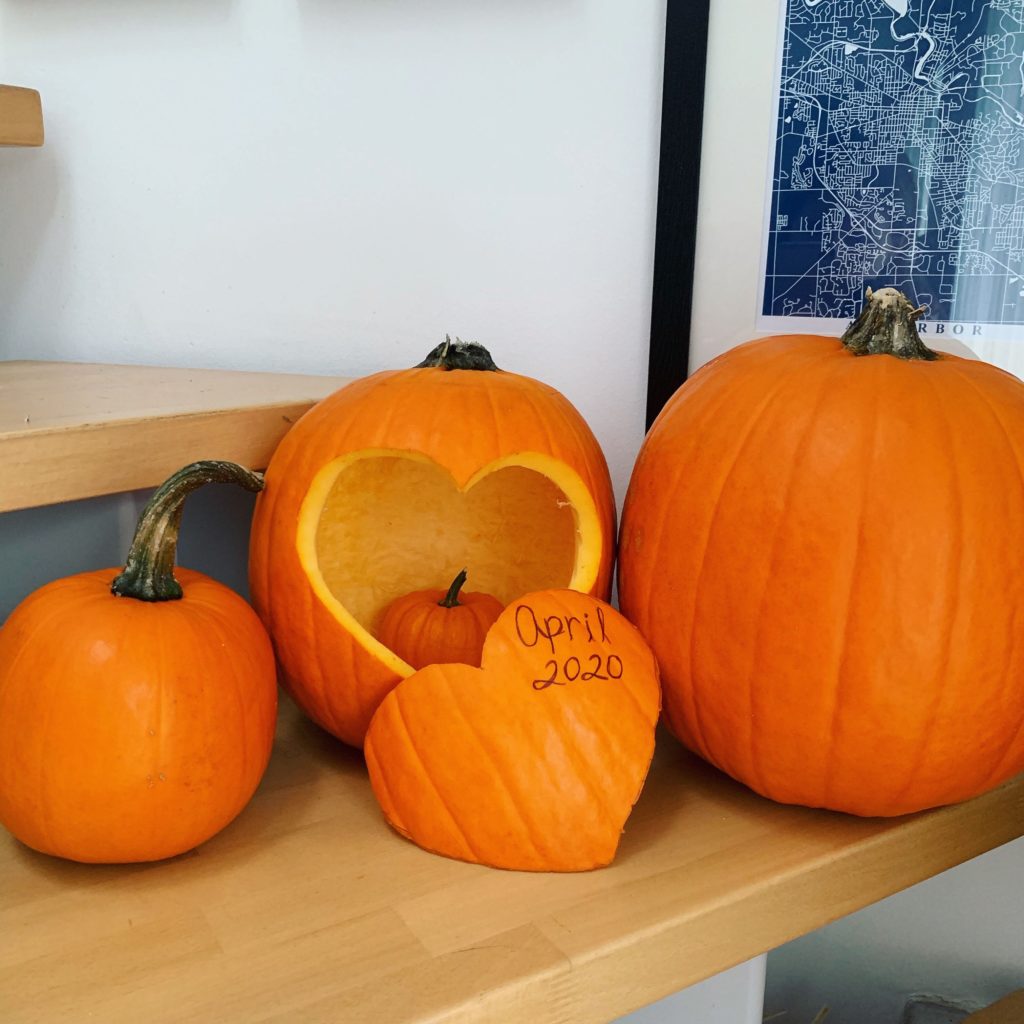 Back in September when we found out I was pregnant, we never would have guessed that we would be bringing a baby into this world during a global pandemic. We announced the soon-to-be arrival of baby Grimm #2 in cute ways and our biggest concern was that he arrived healthy, 10 fingers and 10 toes.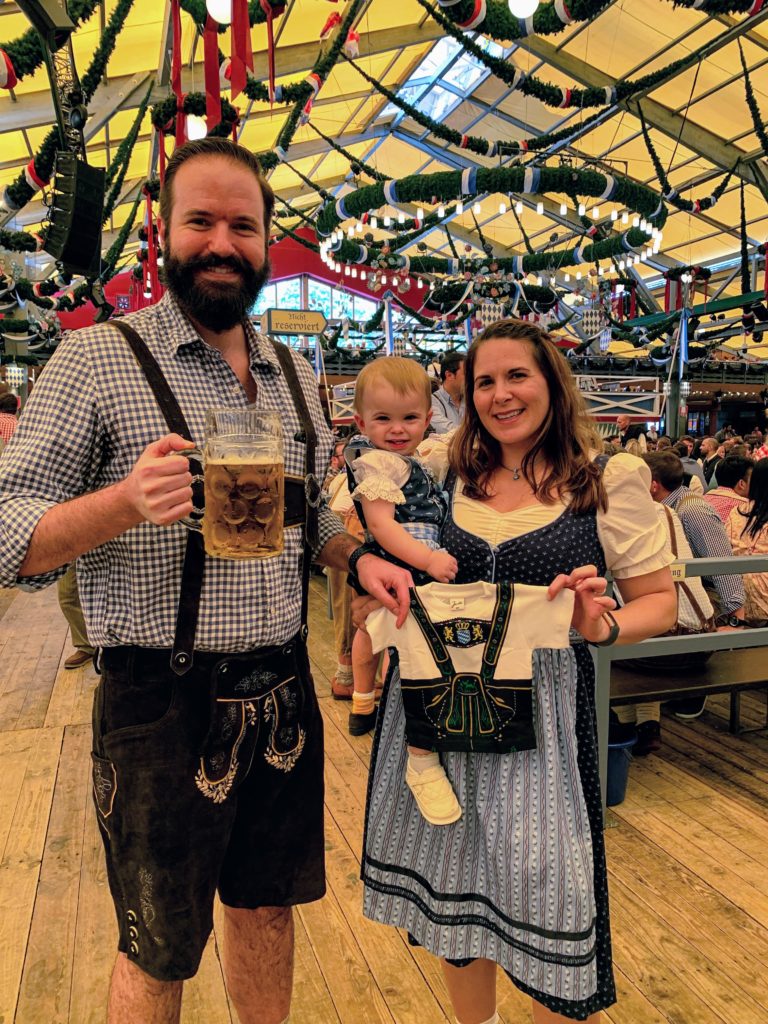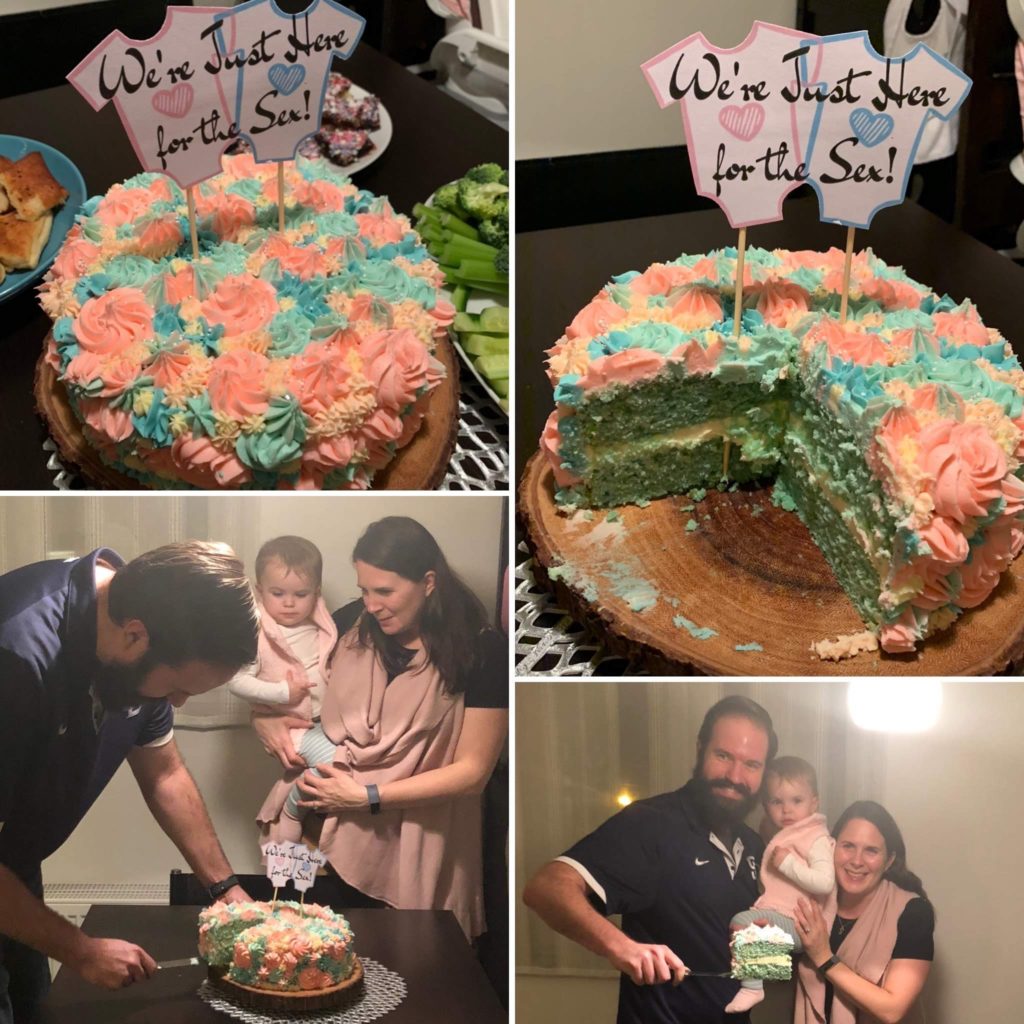 Except for the fact that I was extremely tired and taking care of a toddler, life continued as normal. I was still meeting friends daily at the gym, walking everywhere to run errands, and we were still traveling the world as a family. I was able to find a wonderful OB/GYN within walking distance from our house. There were some differences in prenatal care but for the most part, everything was the same.
It was important for Jeff and me to have a babymoon, like we did when pregnant with Carson. One last trip where we were a party of 3. We had originally planned to visit Dubai and Abu Dhabi in the United Arab Emirates but due to political turmoil (aka the US killing an Iranian general therefore creating instability in the region making Americans unwelcome) we decided to head to Tenerife in the Canary Islands. It was a wonderful week on holiday with tons of sun and pool time!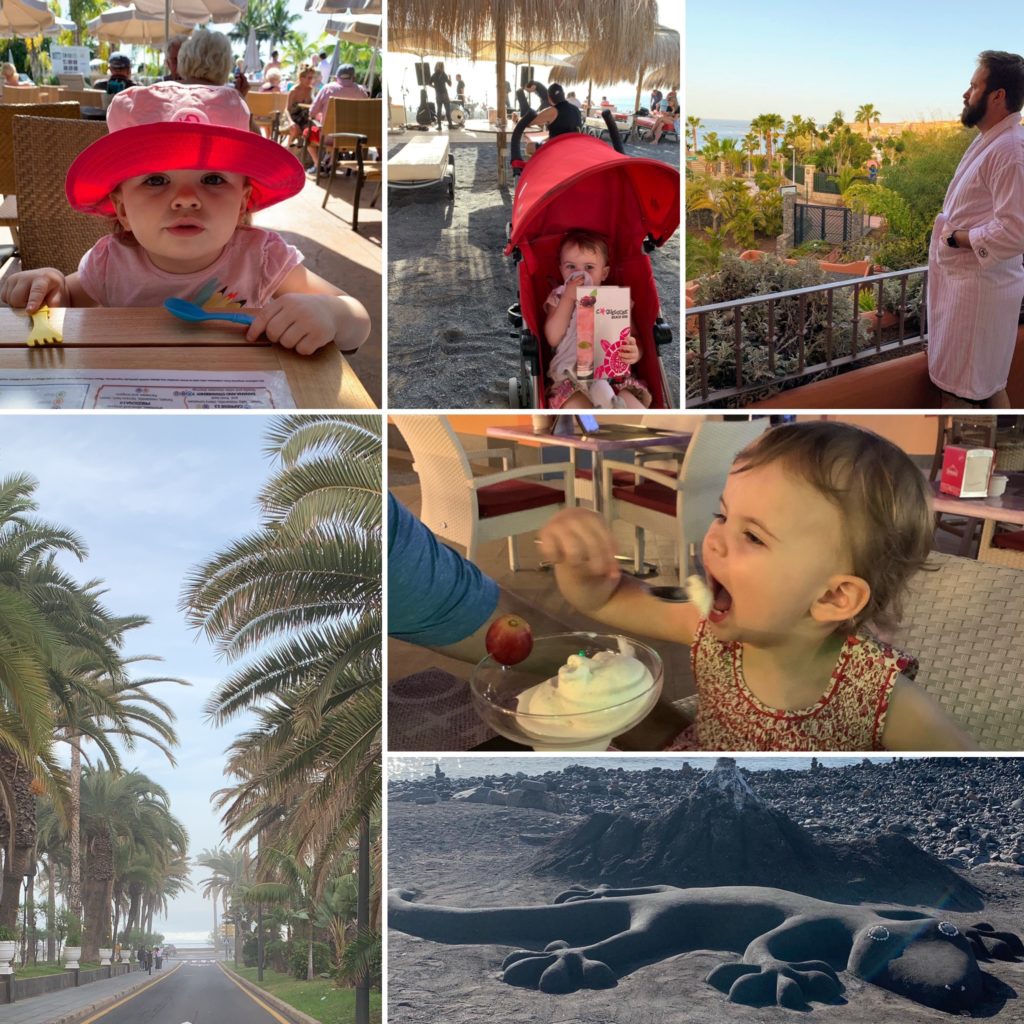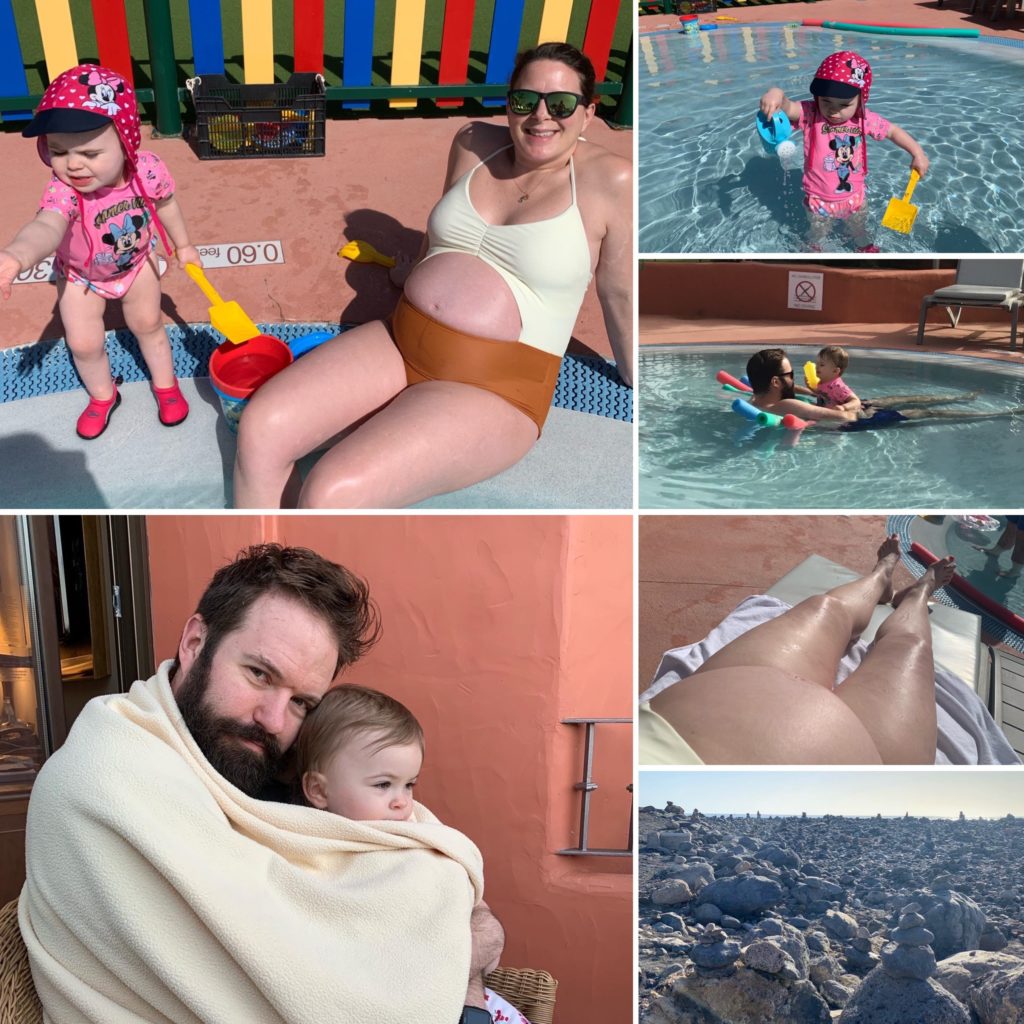 Then COVID-19 hit and spread like wildfire. Flights were grounded, borders were closed, and social life looked a lot different.
March 24, 2020 (email to friends): First, yes, we are doing well. Germany has some pretty strict rules in place such as "no more than 2 people can be together at any given time unless you are a family". But much like Illinois all non-essential stores are closed and residents are being asked to stay in their homes as much as possible. Borders from Germany to most neighboring countries have been closed but that was mostly because countries with stricter rules were coming into Germany to panic buy supplies. Speaking of supplies, I never thought I'd be so happy to find things like flour, pasta, and toilet paper in the stores! Granted our grocery stores are about the size of a small Walgreens but I'll take what I can get…when I can get it 🙂 For the past 2 weeks, Jeff has been the one to run the errands. The culture here is that you go to the store every day or every other day because living spaces are much smaller then what we are used to in the US. For example, our freezer is the size of a dorm room fridge…seriously.
The biggest challenge for us has been Jeff working from home. He is able to get his work done but Carson is so excited "dada" is home that she will call for him until he responds to her. Some of our friends from Australia were sent home from this project because Australia has closed its borders and no one knows when they will reopen again. When our friends landed, they had to sign a contract with the government saying that they would self-quarantine in one place for the full 2 weeks or face a $50,000 fine! Yikes!
Second, we have scheduled the C-Section of baby boy Grimm for Tuesday, April 7. My OB/GYN is calling Carson's birth a traumatic birth so it has been fairly easy to schedule. It is preferable for women to have a natural birth here in Germany and they are hesitant to schedule a C-Section without a pre-existing condition such as a traumatic birth. Weird thing in Germany is that it is extremely rare for the doctors to practice in their own office and in the hospital like in the states. In other words, who I have been seeing for prenatal care is not the person who will deliver Baby Grimm at the hospital. I will have a completely different team, one that exclusively works at the hospital in deliveries. Additionally, since we have private insurance the head of the Labor & Delivery department will be the one to do the delivery. We've met her twice now and she is wonderful and speaks very good English.
In other news, I will also be helping with the birth*. After the incisions have been made, they drop the curtain and I will push from the top of my abdomen. I was already reassured that there would be no blood sighting and that its really cool. This is one of the only hospitals in the world to do C-Sections this way. They think it helps the mom bond with the baby because she get to help. We'll see… However, due to the Coronavirus, there is a strict no visitor policy in place at the hospital. Jeff will be with me in the delivery room for Christopher Willis but once he leaves the hospital, he is only permitted in again when picking me up…after the mandated 5 day recovery. I think in all of this, that is what makes me the most nervous especially because while the doctors speak English, the nurses don't. Guess I'll be living through google translate.
April 18, 2020 (email to family): As many of you know, we welcomed Christopher Willis Grimm to the world on April 7, 2020 or as the Europeans write it 7/4/2020 (Carson was born on Grandpa Dieter's birthday so for me, the European way of writing the date is our little nod to Grammy Dieter).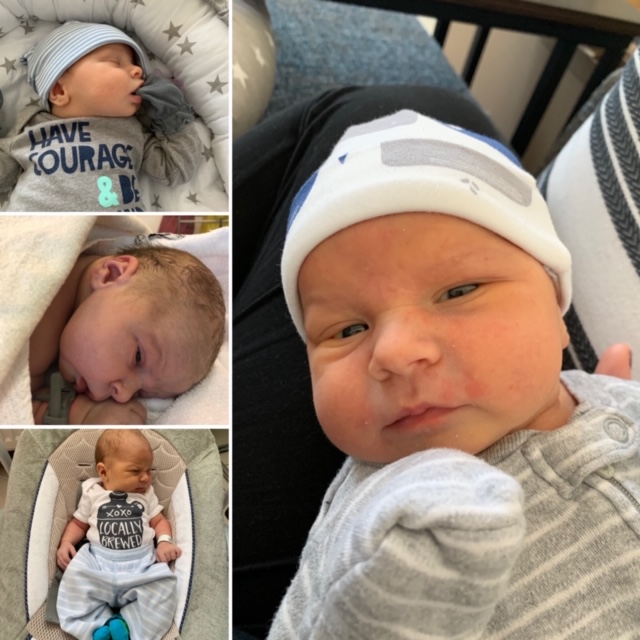 Thankfully the planned C-Section was/is much easier to recover from then the unplanned/emergency one with Carson. Christopher is 11 days old and I'm feeling much better this time around. Jeff, Carson, Christopher and I go on daily walks around the abandoned messe (convention center) near our house. We've even found a large, empty parking lot for Carson to run around. Being cooped up in the house is not great for a 2 year old with a ton of energy.
Giving birth in the time of Covid-19 and in Germany has definitely been interesting. Jeff was allowed into the delivery room for the C-Section but after about 3 hours in the recovery ward, he was kicked out and not allowed to visit. As you can see from one of the pictures, he and Carson visited but we could only wave from the windows. Additionally, I got to experience the very German way of eating and some extremely traditional German meals while in the hospital. For instance, breakfast and dinner are composed of the same things…2 pieces of bread, a pad of butter, 2 slices of deli meat & 2 slices of cheese. Lunch on the the other hand was usually some sort of gravy covered meat, a potato option, and white asparagus.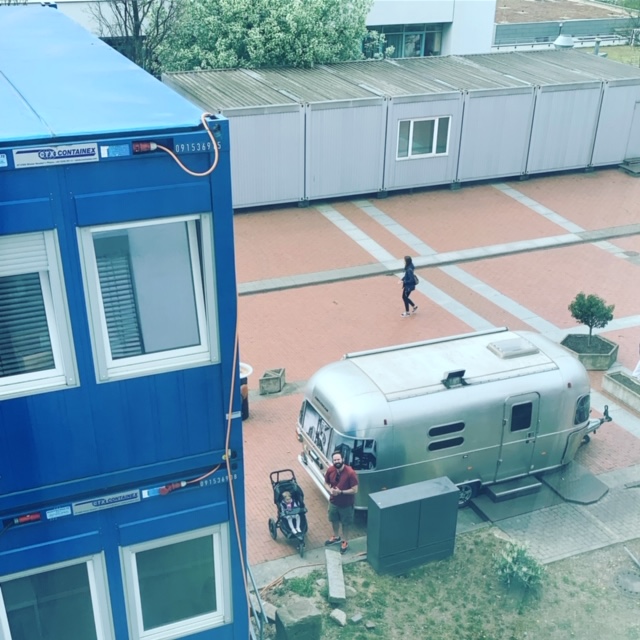 I was originally slated to stay in the hospital for 5 days but with the virus, they want healthy moms and babies to go home as soon as possible. Luckily for us, that meant only 3 days in the hospital. In other words, Christopher and I have been home for a week and our family is slowly adjusting to being a family of 4. Carson is asserting her dominance/control over food and only requesting chocolate bunnies for every meal (thanks a lot Easter Bunny). Other then the occasional meltdown and additional screen time, she seems to like having a baby brother…so far. She likes to identify his nose, eyes, & ears and thinks he's "cute."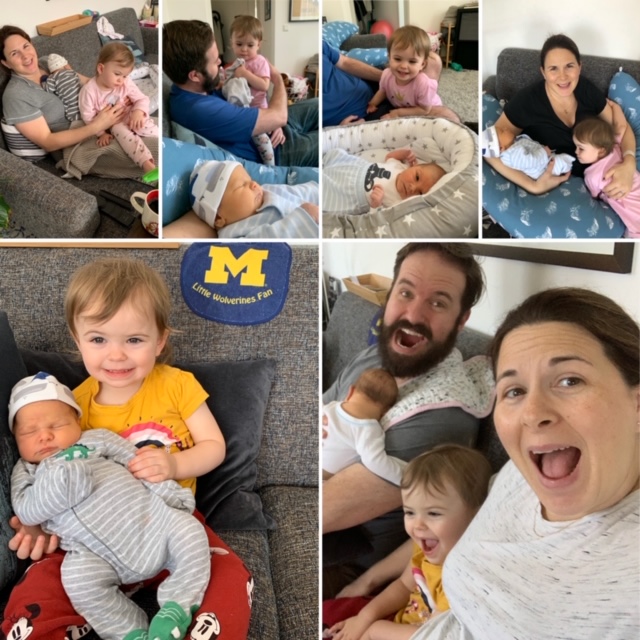 Speaking of Carson, she just had her 2nd birthday. As you can see by the pictures, she loves everything Elsa/Frozen. To say she is obsessed is an understatement. At this point she has seen Frozen I & II so many times that she repeats lines and can sing many of the words to the songs. Since all non-essential stores are closed in Germany, I tried my hand at making her an Elsa Barbie cake. I still have a lot to learn but think its pretty good for a first attempt and all from scratch. She loved it and that's all that mattered.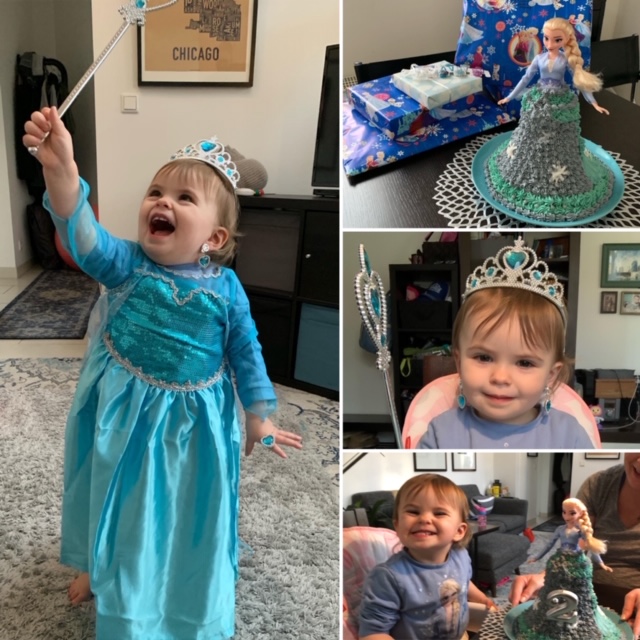 I'm sure there are a million more things I could share but lack of sleep is preventing me from remembering. We would love to hear from you. Please email, call, Facetime, set up a Zoom. We miss you all and miss sharing this experience with you.
July 18, 2020: The time of COVID-19 is not over yet but because of Germany's strict policies regarding social gatherings and mandatory mask wearing, we have mostly resumed normal daily life. Everyone is required to wear masks in stores and public places where social distancing is not possible. Yes, there are a few who protest the mask but for the most part Germans understand that in wearing the mask they are doing the most they can for the community. It is much less a "me" society and more of a "we" society in regards to COVID.
*I was not able to help with the birth and "push" because as the doctor put it "he was hiding". But, they did drop the curtain so Jeff and I were able to see him for the first time at the same time.