In living the expat life, Jeff and I have been fortunate enough to up our travel game this year. As you may know…from following our blog…we moved from the USA to Germany in October of 2018. Since then we have been able to visit Belgium, the Netherlands, France, Switzerland, Spain, Hungary, Luxembourg, Denmark and in a few days, Italy. Italy will bring Carson's country count to 11 (and technically 12 since we will be visiting Vatican City…yes, it's a country too)! This also means that we travel a lot, more than your average household. Sometimes it's a quick 1-2 hour drive across the border, but other times it's a quick 1-2 hour flight.
Recently, a friend asked me about my travel "must haves". Wow…me? I'm usually so busy packing "must haves" for the baby that I don't even think about what's in my bag. After thinking about it for a few minutes, I was able to tell her what I always pack and actually use! I've compiled a list of "must haves" for both me and C and included links in case it's a "must have" for you too. All links take you to the item or a similar item on Amazon. I am not sponsored by Amazon or any of the products listed. These are just things I have found and love.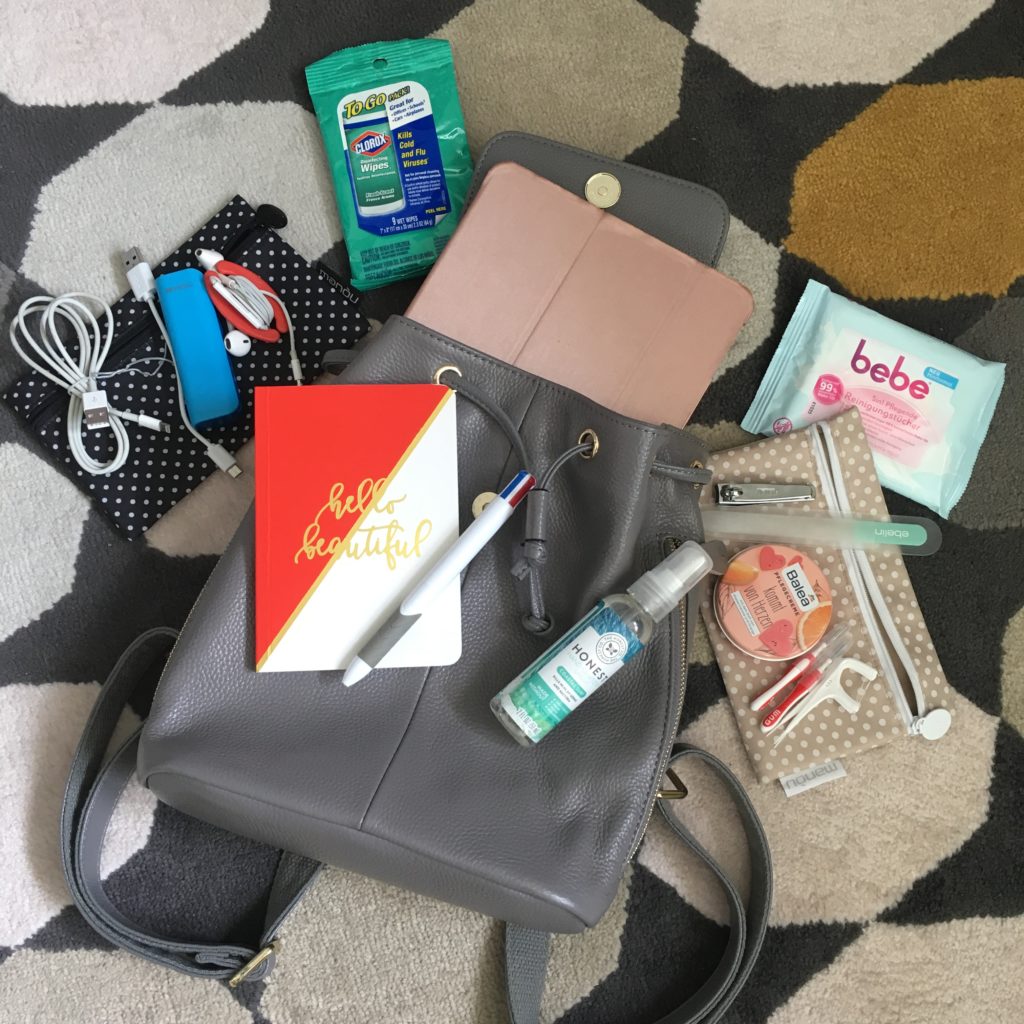 Must Haves For Me:

Travel Purse

My great friend Stephanie came to visit us a few weeks ago. She had a travel purse that held a lot of items and kept them safe at the same time. You had better believe I ordered it as soon as she left and can't wait to travel with it on our trip to Rome in a few days. It's a leather mini backpack with zippered pockets, hidden compartments, holds an iPad and comes in a variety of colors! Face wipes

These are a must. Travel can be hectic and stressful. Whether you have a 60 min flight or a 6 hour flight, it's always refreshing to cleanse your face with a wonderful smelling, cool wipe. I prefer to use the Yes To Cucumber Soothing Hypoallergenic Facial Wipes for Sensitive Skin. These are a little hard to find in Europe so I use whatever I can find that seems legit.Hand sanitizer/disinfectant wipes

Thinking about all of the germs in/on public spaces…yuck! Don't! Seriously…just don't. One way to ease your stress about the germs from traveling is hand sanitizer or disinfectant wipes. The Honest Company Hand Sanitizer is my absolute, hands down favorite. I love the different scents and the ease of the spray. Honestly, I carry 2-3 of these sprays with me all day, everyday…even while not traveling. I also love Clorox Wipes in a travel size. I personally love to wipe down the arm rests and fold away tray as soon as I take my seat in the plane. Small bag to hold cords

If you are anything like me, even while you are in a chaotic state, you like to stay organized. Not sure what it is about being organized that makes me feel calm but whenever I am traveling I have to have a small pouch or baggie to hold all of my electronic cords. If I'm really feeling inspired, I'll even label them (doesn't happen often). It can be a plastic baggie or a beautifully monogrammed zippered pouch as long as it holds all of the cords I have, it does right by me. (No link as this is probably something you already have in your house). I usually carry two of these with me. One for cords, as mentioned above. The other bag is for small items so they don't get lost in my purse like floss-sticks, safety pins, a hair thing or two, moisturizer, nail file, clippers etc.Twist Ties

As silly as it sounds…twist ties. Yes, the twist ties that come on everyday items, yet I can't think of one. I save and collect these in a way that makes my husband crazy. However, they make great binders for cords…you know, the electronic cords that are being stored in your small zippered baggie. Again, it's the organization in a chaotic time that makes me feel at ease. Every cord is always wrapped and bound in an organized manner.Extra Charger

At this point in time, most airplanes have seats with charging ports. However, sometimes you will fly on a plane that is a little older and there are no charging ports to be found. You could turn off your devices but on a 9 hour flight my response is, "no way!" Especially not with a little one in tow. I always bring with me an external battery charger for my phone, iPad, electronics etc. This way, I know for sure that I am covered when the battery on my not-so-old-phone dies a little too quickly. Small Notebook and Pen

Even though most information is stored on my phone sometimes I like to actually write it down. Its always a good idea to keep a pen on you but I like to take travel notes in a little notebook/journal. Inflatable Neck Pillow

Let me just say that this is Jeff's "Must Have". He purchased these for both of us when we were traveling to China (15 hour flight) a few years ago and thank goodness he did! The Inflatable Neck Pillow provided some much needed comfort on long flights. Not only is it small and compact but it inflates incredibly easily to the comfort level of your choice. I only bring this with me on long flights where I want to sleep.