When a friend from the states, who has explicitly gotten their passport to come and visit, finally comes to visit…Road Trip! And what better way to break in the passport then to go to as many countries as possible in a short amount of time. Jeff's good friend, Grant came to visit recently and hopefully we his European adventure didn't disappoint. Our 5 day adventure took us through Germany, France, Luxembourg, Belgium, and the Netherlands. Below are quick descriptions of places we visited and some pictures from along the way.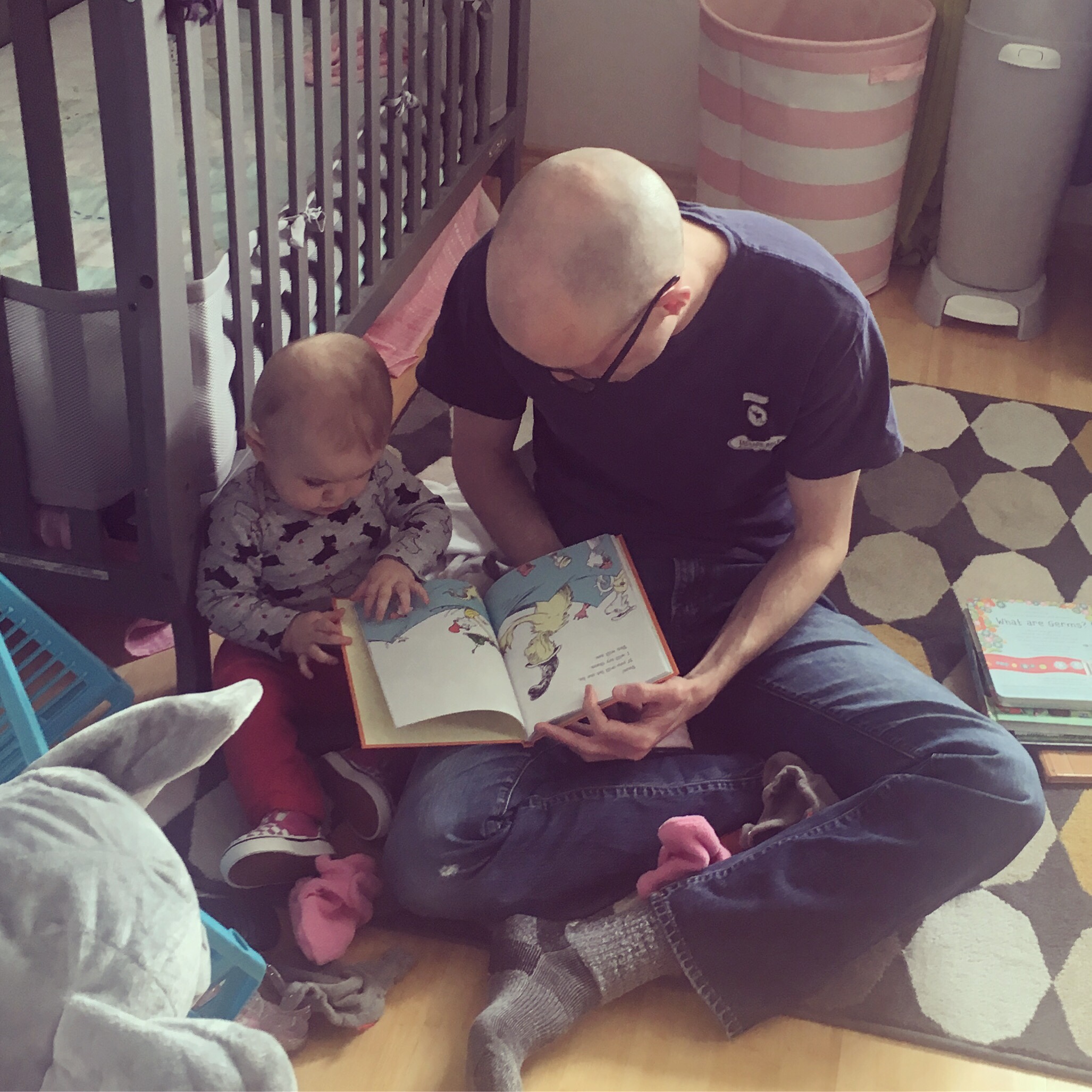 Day 1:
Cologne, Germany

Kölner Dom/Cologne Cathedral-This amazingly beautiful cathedral is the largest Gothic church in Northern Europe. One of its treasures is the Shrine of the Three Kings which it is believed to hold relics of the three wise men. The Cologne Cathedral became a UNESCO World Heritage Site in 1996.
FRÜH am Dom-After admiring the cathedral we headed to a traditional German brewpub a few blocks away. It's the kind of place where you find a seat wherever you can, share, tables with strangers, beers are refilled almost as soon as they are empty and your beer consumption is marked on your coaster. (The marks on this coaster indicate the beers of the group…not just me. We each had 3, 0.2L kölsch beers).
Remagen, Germany

Brücke von Remagen-In the closing weeks of WWII, this critical remaining bridge over the Rhine river was captured by the US Army. This bridge was on Grant's list of things to see as his grandfather took part in missions that helped secure it. The bridge collapsed 10 days after it was captured in 1945 but the towers remain.
Koblenz, Germany

Deutsches Eck-The German Corner is in Koblenz and is where the Mosel river merges with the Rhine. At the eck is a statue of Wilhelm I, the unifying emperor of Germany. This statue was destroyed in WWII and rebuilt in 1993.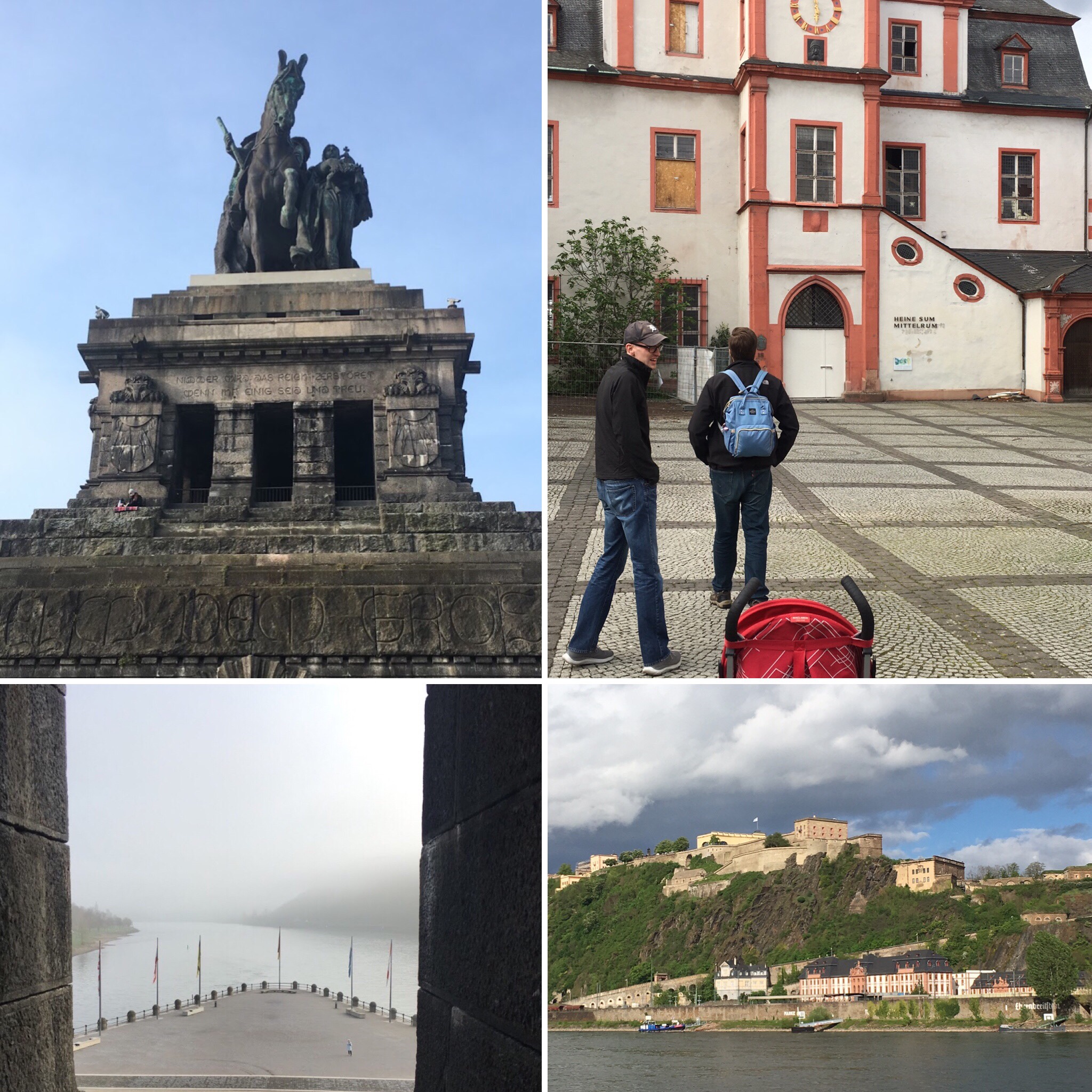 Augenroller (Eye Roller)-This is a strange monument that you might walk by if you didn't know to look for it (or what it does). It's the face of Johan Lutter, a 16th century robber. His eyes "roll" back and forth like the pendulum of a grandfather clock and every half hour his tongue darts in and out for a few seconds. He was beheaded for his crimes so some say he is there as a reminder to stay on track others say that he is there to taunt the citizens of Koblenz.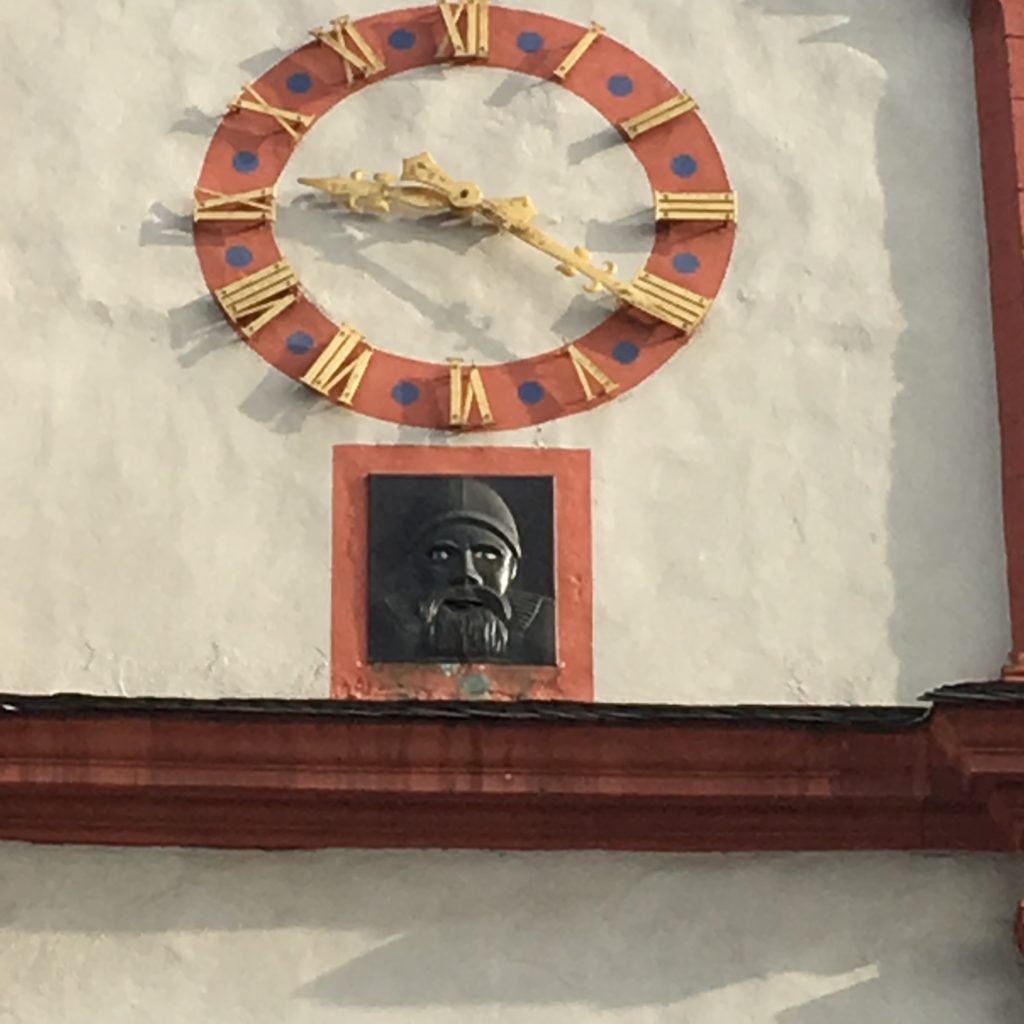 Day 2:
Verdun, France

Verdun Memorial-An extremely well done Memorial/museum to commemorate the Battle of Verdun in WWI. Over 230,000 young men died out of 700,000 casualties (dead, wounded & missing) during the long battle, Feb. 21, 1916-Dec. 19, 1916.
Duoaumont Ossuary-Just a few minutes down the road lies a memorial and 13,000 crosses which hold 130,000 unidentified remains from the battle. The ground around the Memorial is still sculpted by all of the bombs that were dropped and each year they find more remains of soldiers who died on the battlefield.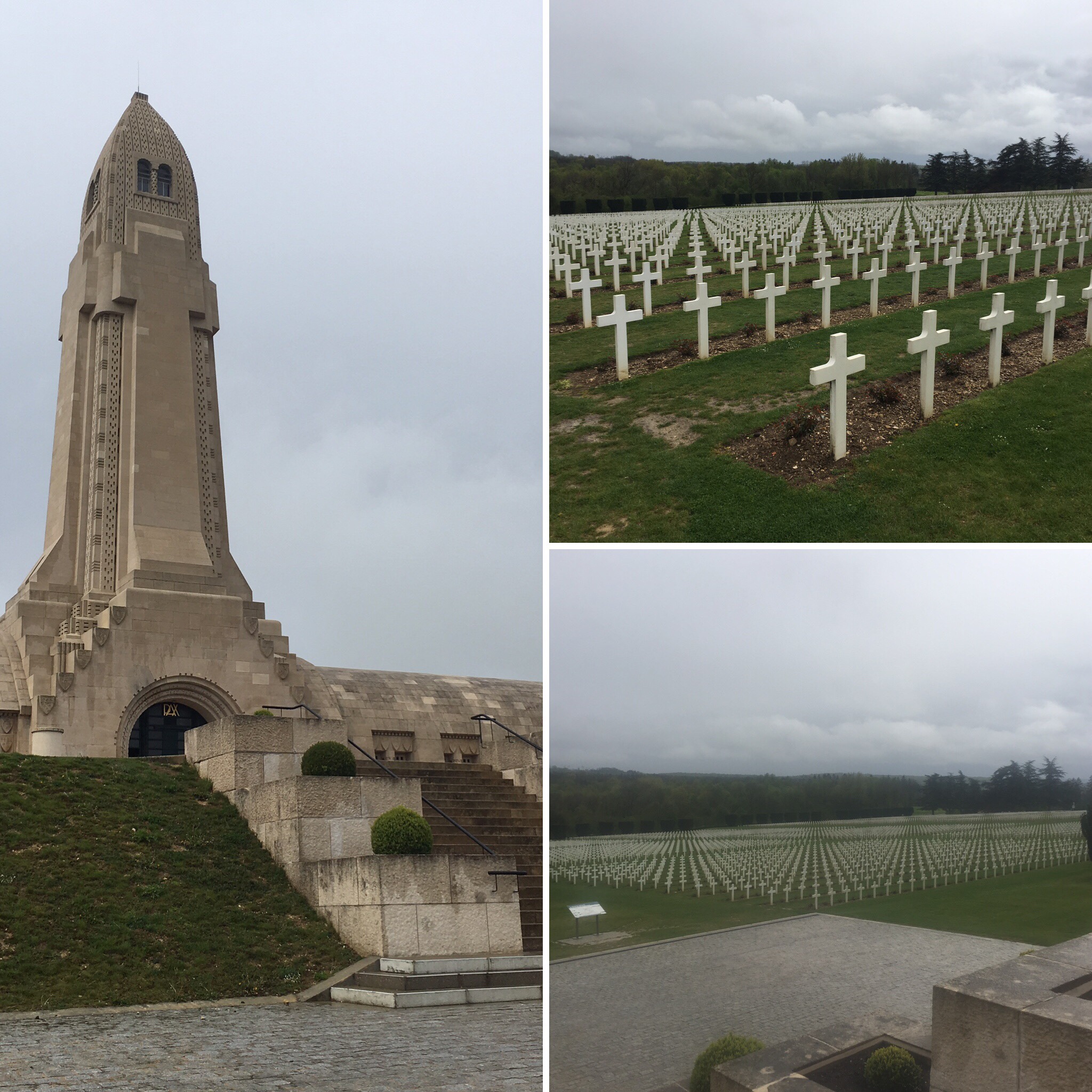 Luxembourg City, Luxembourg

Luxembourg American Cemetery and Memorial-The burial spot for General George S. Patton and 5,073 WWII American soldiers. While sad, the cemetery is incredibly beautiful. Included in the entrance of the cemetery are 2 maps that depict happenings during WWII. We arrived 10 min after closing so we came back the next morning before heading to our next location.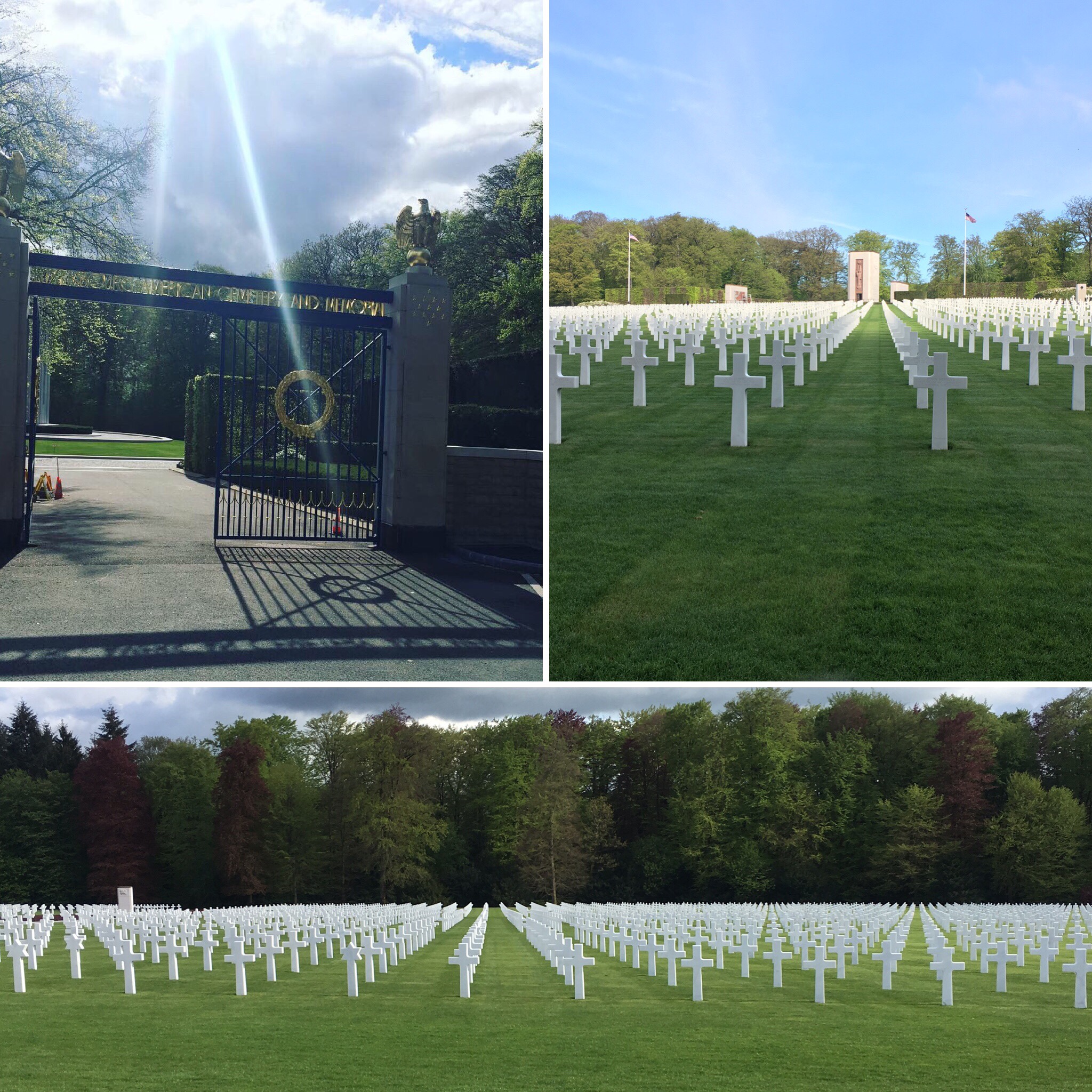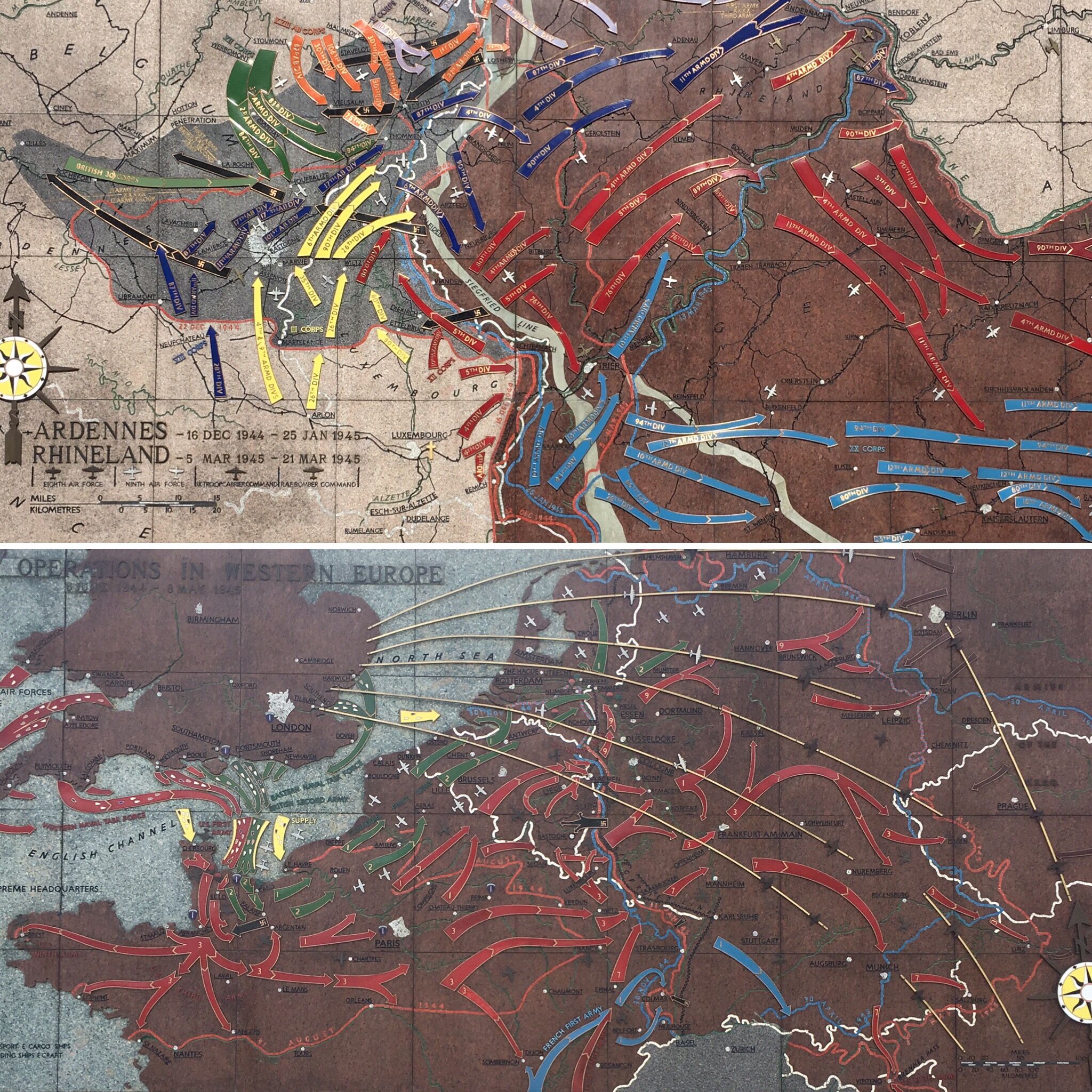 Luxembourg City-After visiting the American Cemetery we explored Luxembourg City. It was a Sunday (which means a lot of things in Europe are closed) but it's pretty small so we were able to see a lot of the greatest hits before checking into the hotel.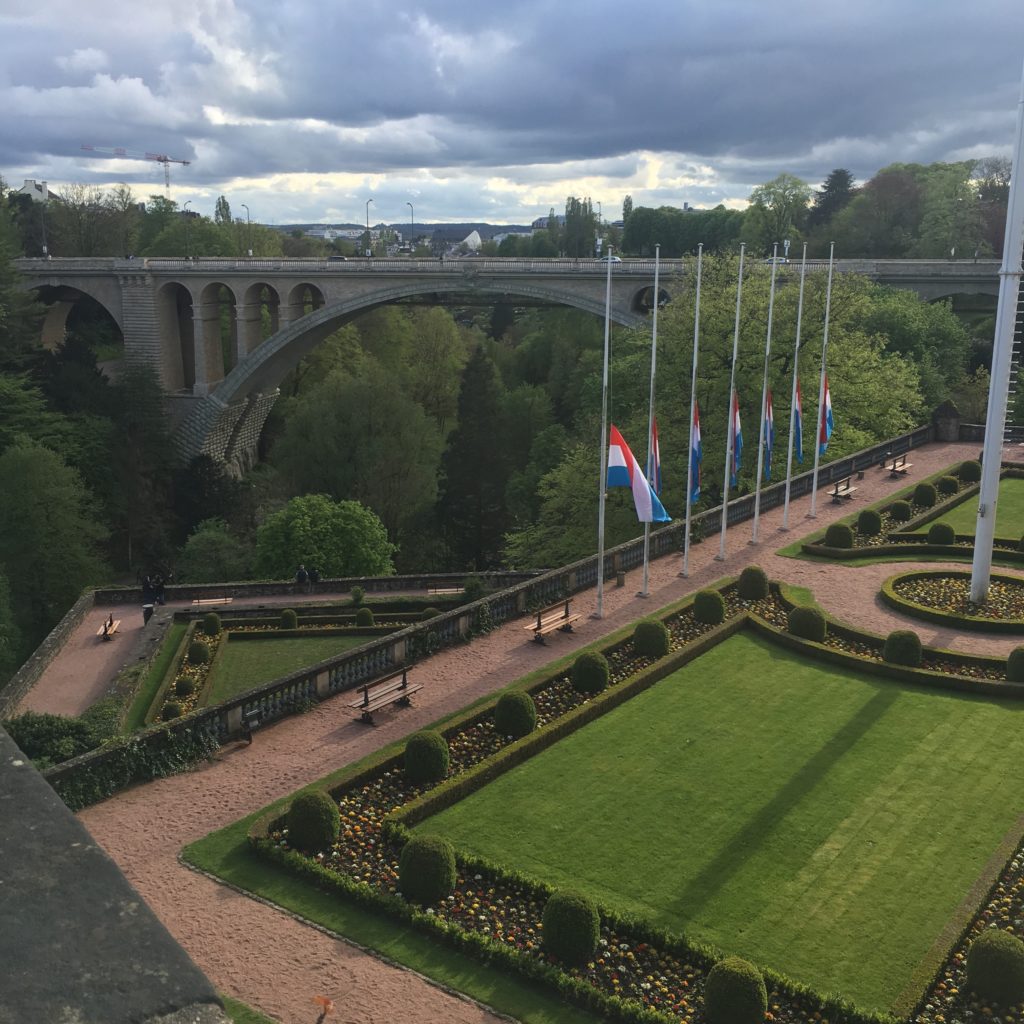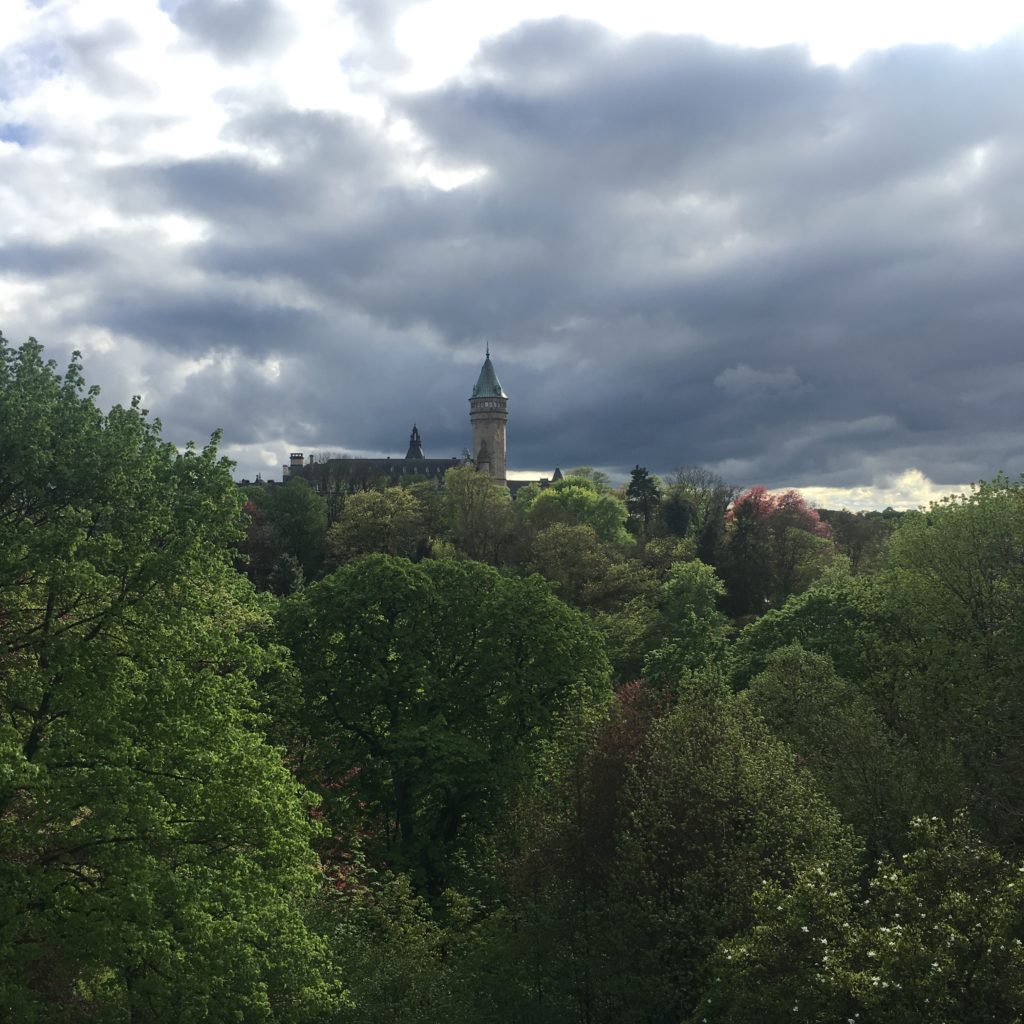 Day 3:
Brussels, Belgium

Brasserie Cantillon-small brewery that makes phenomenal sours. Seriously delicious! If you are in Brussels, make the stop!
City exploring took up the rest of our day. We took Grant to all of our favorite places from our last trip. Check our "I Can Show You The World" blog post for more on Brussels.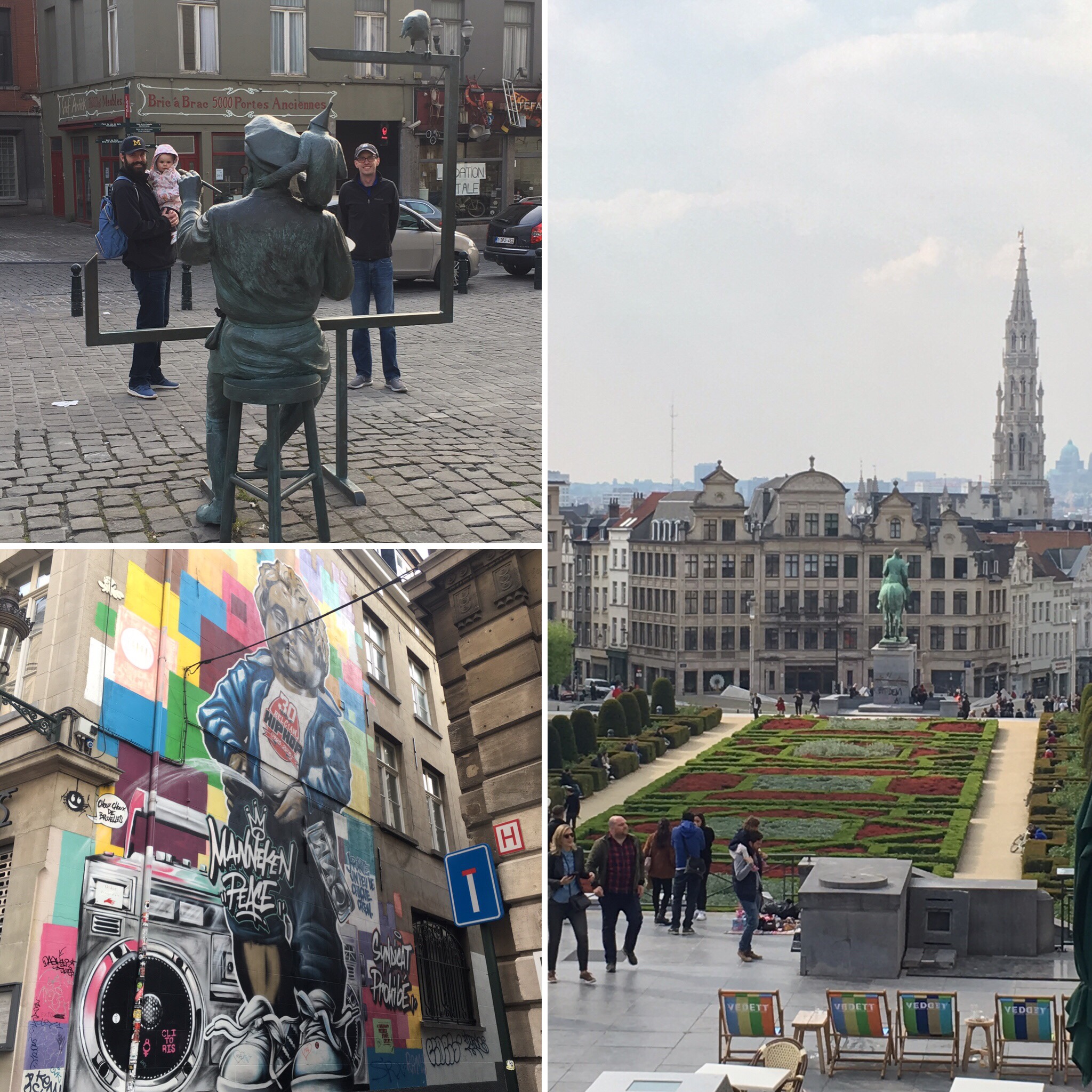 Day 4:
Rotterdam, The Netherlands

Markthal-We drove from Brussels to Rotterdam and went straight to Markthal. It's an apartment building, parking garage, and food hall with just about every food imaginable including our favorite, the fresh made stroop waffles. I didn't know about stroop waffles until we moved to Europe and now they are one of my favorite foods…especially when made fresh! Imagine a circular thin waffle, cut in half then slathered with fresh caramel in the middle. Soooo delicious! (Jeff's new favorite is the stroop waffle with Nutella in the middle. Yummy!)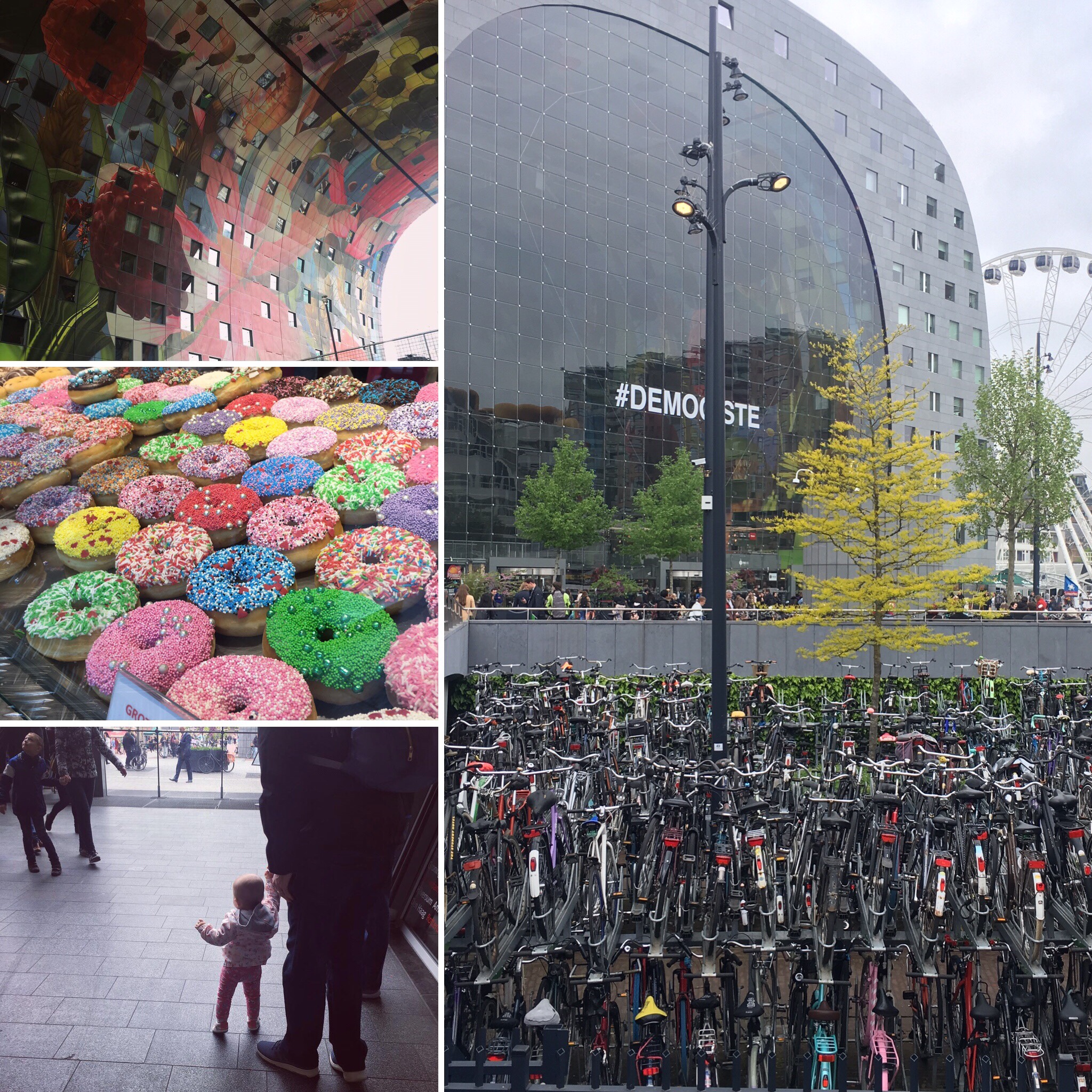 Cube Houses-These are quite interesting to look at. They are houses that have been tilted by 45 degrees. The houses are lifted and are supposed to represent trees. Together they are supposed to create a forest. One owner has turned his cube into a space that curious visitors can tour. Rotterdam is an extremely modern city full of art. It pretty much had to be after getting almost completely demolished in WWII.
Vessel 11-This British Gastro Pub on a boat docked in the old city harbor was a recommendation from a good friend. I'm glad we trusted her. The atmosphere is cozy and unique, very nautical. We had a few drinks and the Bitterballen. If you've never experienced Bitterballen, you should. They are Dutch beef ragout balls. If beef stew could be in meatball form, this would be it!
Fenix Food Factory-In an old warehouse lies the Fenix Food Factory. This collective of restaurant is extremely hip and modern. It reminds me of Union Market in DC, a lot of delicious restaurants in one location. We got beers at Kaapse Brouwers and a Japanese pork pancake. Both were excellent choices.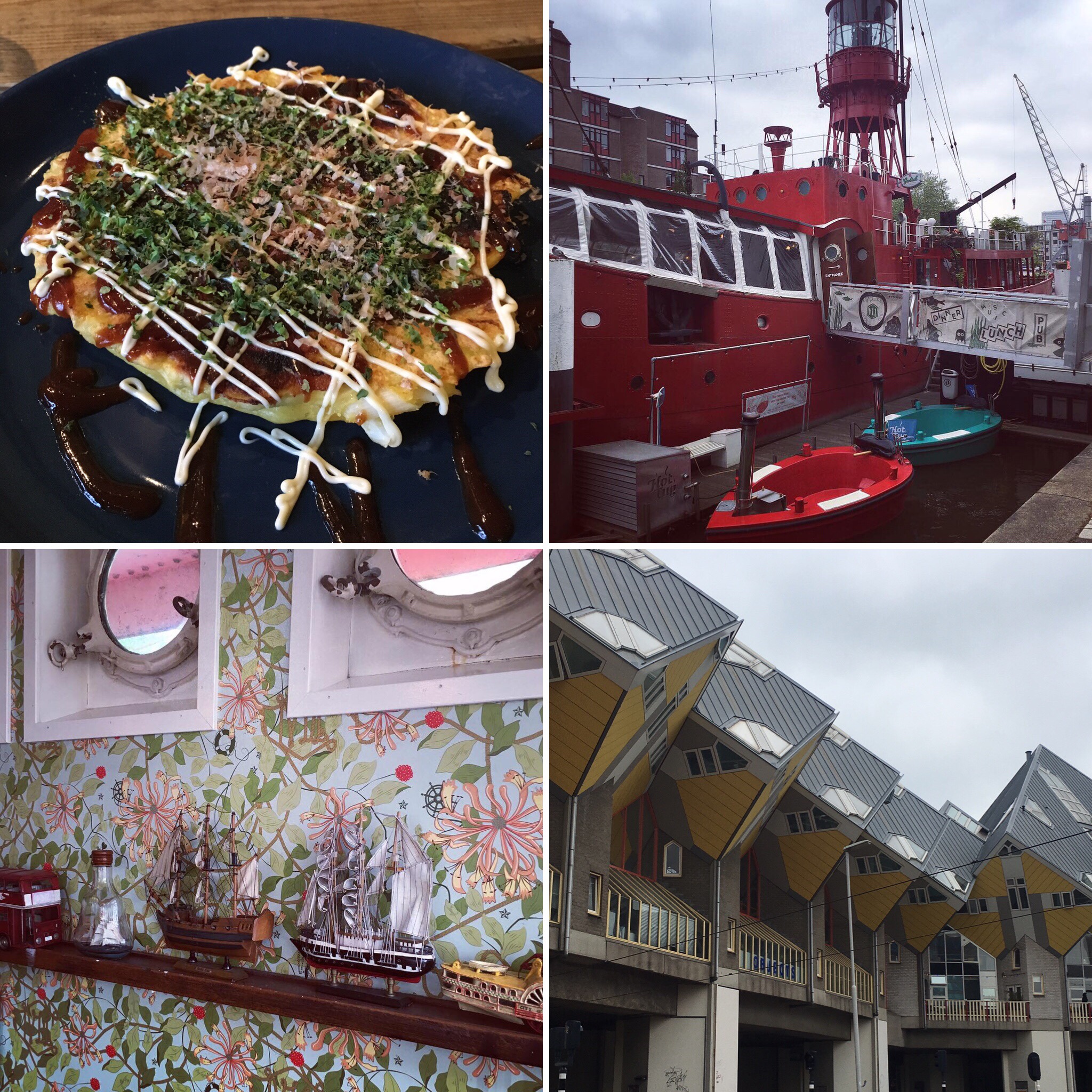 Delft, The Netherlands

The city of Delft-is located between Rotterdam and The Hague in South Holland. It is known for hand painted blue and white pottery and is said to be the birthplace of microbiology. There is a medieval Oude Kerk (old church) which is the burial site of the famous artist Johannesburg Vermeer. The main town square that sits between City Hall and the New Kerk (built between 1381-1496) has plenty of shops with fresh Gouda, ice cream, blue and white pottery, wooden shoes and souvenirs. The city center reminded me of Amsterdam with all of the canals that run through the city.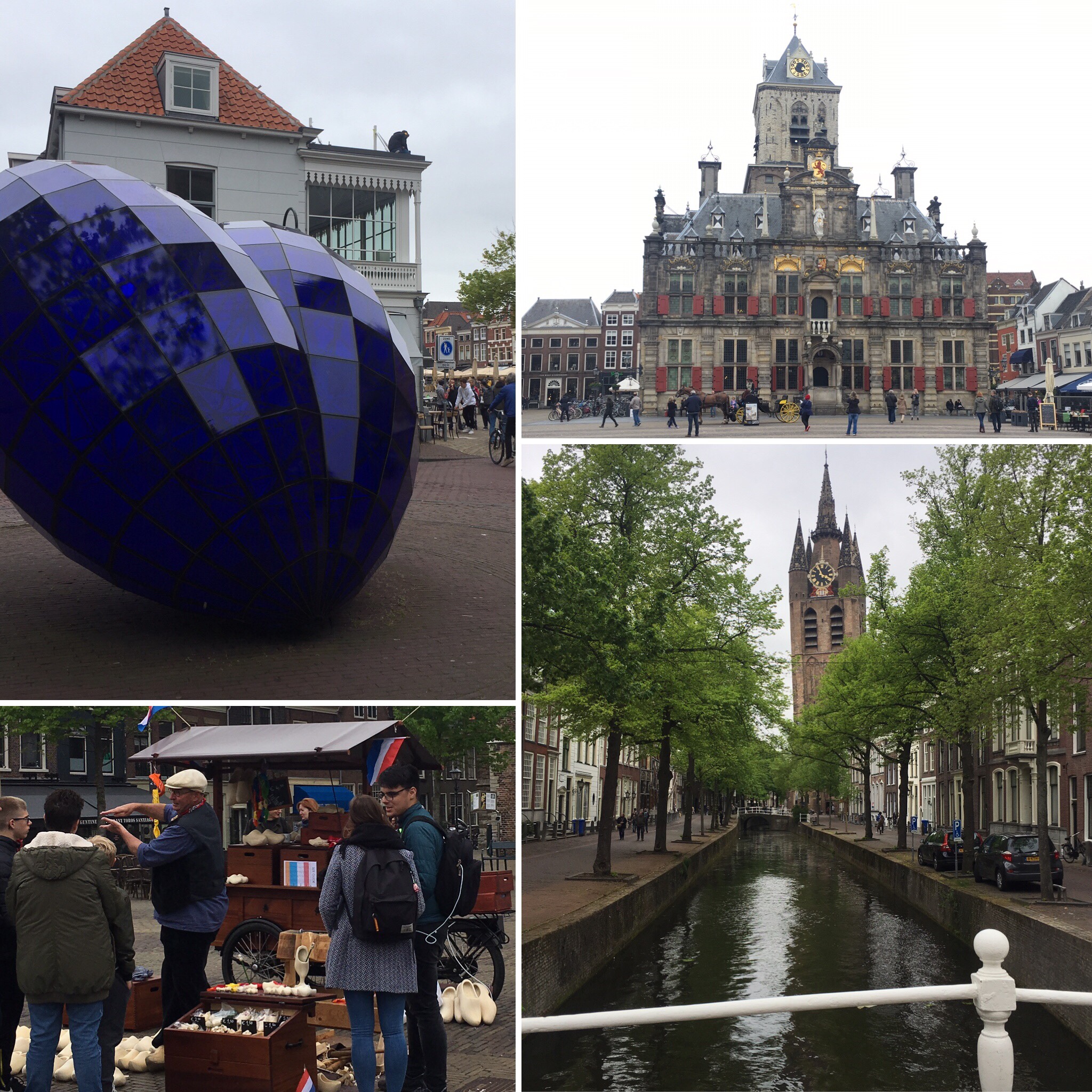 Day 5:
Haarlem, The Netherlands

Frans Hals Museum-Our last stop took us to Haarlem to visit the Frans Hals Museum. Grant has been a big fan of the way Hals painted regular, everyday people since he learned about the artist in college. Hals was a Dutch Golden Age painter alongside Vermeer and Rembrandt. The museums collection includes other Dutch artists from around the same time period as well as modern art from Dutch artists. This museum is a definite must see if you ever make your way to Haarlem as it is incredibly well done.