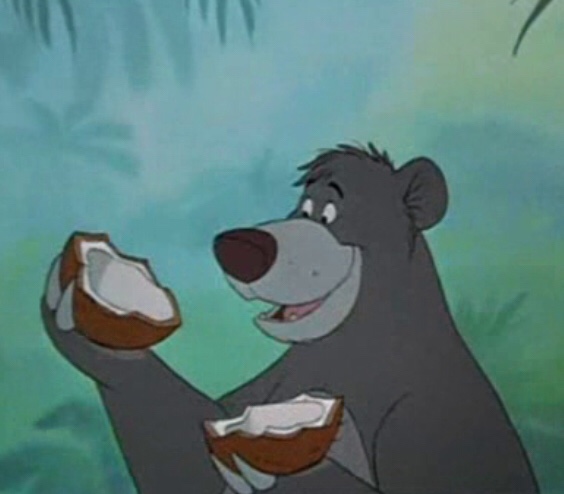 Look for the bare necessities, the simple bare necessities. Forget about your worries and your strife. I mean the bare necessities, old Mother Nature's recipes that brings the bare necessities of life.
Have you ever heard of the peach and the coconut? Yeah, me neither…until the cultural training we had a week ago.
It is said that Americans are like peaches, soft. Americans tend to be extremely friendly, smile at strangers, offer personal anecdotes and are very helpful. Americans ask how you are doing and expect small talk in return. Americans say things like "we should grab coffee sometime." But, just like the peach, American's have a hard inner pit. They are extremely private and do what they can to protect themselves. So, while they say things like "we should grab coffee sometime," it probably won't happen.
It is said that Germans are like coconuts, hard. Germans do not appear to be friendly, do not smile at strangers and will not start a conversation with a stranger. It may take a few cracks, but with time the hard exterior eventually breaks and Germans become friendly and loyal friends. When Germans say "we should grab coffee sometime," they will set the time and date. If you ask a German how they are doing, expect a lengthy answer on how they are actually doing, good or bad.
Upon first moving to Germany, I had an experience in which roles were reversed. I was the coconut moving through unfamiliar places with my hard outer shell. During a trip to the grocery store, I tried to get out of a vinegar tasting by saying I only spoke English. Unfortunately for me, the sales girl also spoke English. When she wasn't completely sure about an English translation, she would ask the another woman who was also experiencing the vinegar tasting. The other woman was a bit older, in a wheelchair and knew the English translations right away. After the tasting, I went about my business and continued through the grocery store.
About 20 minutes later, I run into the other woman in one of the aisles. She proceeds to introduce herself, Barbara, and ask questions. Were we visiting? How long have we been in Germany? Would we be interested in having dinner at her house? Yes, you read that last question correctly. I was a little taken aback at this peach like behavior but said yes anyway. We exchanged phone numbers and went our separate ways. Before I had returned home, Barbara had already texted to set up a time and date…very German.
When Jeff got home from work, I told him all about my day…and how we would be going to a German couples house for dinner that Sunday. He, like you, had many questions about the whole situation. Where did I meet this woman? How did dinner become part of the conversation? Would we get murdered if we went? (Well, the last question may be a little extreme.) I finally convinced him it would either be a great time or a great story to tell later.
So…we went!
Barbara and her husband Dieter* were wonderful hosts. Barbara loves to cook and just wanted people/friends to cook for. She said that most of her recipes are for four to six people, so when she cooks, she ends up having too much food leftover. Barbara had prepared a four course meal and it was clear she spent a ton of time preparing for this dinner.
Their German apartment was completely decorated with an autumn theme; leaf plates, napkins, serving platters, etc. There were garlands of leaves hanging from the bookshelves and around the windows. Barbara, as we found out later, loves to decorate for the changing seasons and various holidays. She also loves collecting dinnerware and serving sets from the states.
Back to the four course meal…the first course was roasted pumpkin soup with crostini and pumpkin seeds on the side. The second course was salad with baby field greens, apples, cranberries, walnuts, and a balsamic vinegar dressing just like the vinegar we had tasted at the grocery store. The third course, the main course, was a millet salad with cranberries and pistachios and a veal and potato tagine dish with roasted vegetables. The fourth course consisted of a variety of fruit marinated in orange liqueur. Start to finish, our meal was spectacular! The conversation never stopped and was extremely rich with information, travel stories, a minor German history lesson and a lot of getting to know each other. Four and a half hours later and a diaper change in the middle of their living room, we were on our way home, talking about how wonderful the experience was and how we were glad we stepped out of our comfort zone to share in a dinner with Barbara and Dieter. (I've added links to recipes that are similar to what Barbara made).
*Side note: My middle name is/was Dieter. In my world, Dieter was my mother's maiden name. While I knew that Dieter was a first name, usually assigned to boys, I have never met a Dieter…until now. Dieter, Barbara's Dieter, thought it was hilarious that my middle name is/was Dieter. He explained that in Germany, boys were named traditional boy names and girls were named traditional girl names. Carson threw him off a bit because it is traditionally a boys name. He said that it has always been a bit shocking to him that American's can name their babies whatever they want.
**I wish I had known Barbara and Dieter well enough at the time to take pictures. The dinner really was absolutely spectacular and should have been captured!